Today's theme: what's Plan B?
The Italian coffee shop was out of business
Vodafone was out of tourist SIM cards
The bus I wanted was not longer running
Using google maps, I located a coffee shop that looked like it had amazing cappuccinos and croissants. When I got there, I was disappointed to discover it had closed permanently. Fortunately, Albania has a thriving café culture, so I found a delightful alternative. First coffee in a mug in the last 6 months.
Next stop – the vodaphone shop. They were advertising a tourist SIM card with 20GB of data for $8 (800 Lek). Except they were out. So was the next shop. Eventually I got a recommendation for a larger shop, which got me set up easily.
The day's plan was to take the 2pm bus from Tirana to the lake town of Ohrid in North Macedonia. I don't love busses, but this particular one had good reviews online. The reviewers suggested buying the ticket no later than 9am the same day or it could fill up. When I arrived at 5 before 9, the ticket agent told me the 2pm route was cancelled due to Covid. They were only running 9am and 9pm, the latter getting me into Ohrid at like 2am, which I'm sure my airbnb host would have loved.
I looked for a tourist office for options, but they were closed due to Covid. Finally I just asked a taxi driver if they would take me. He said he'd do the 2 hour drive for $75, which I decided was worth skipping a night bus. Turns out what was lost in translation was that he had to let me out at the border with North Macedonia and I would have to take a bus from there. I splurged for a second taxi to take me the remaining 30 minutes to Ohrid. Covid-wise, the first driver wore a mask correctly and made sure I did. The second had his strapped under his chin. Both drove with windows rolled halfway which is probably better than ac.
Jet lag status – Severe
Wide awake at 4am (4 hours of sleep). Napped in a sitting up position for an hour in the afternoon out on the lovely balcony of the airbnb.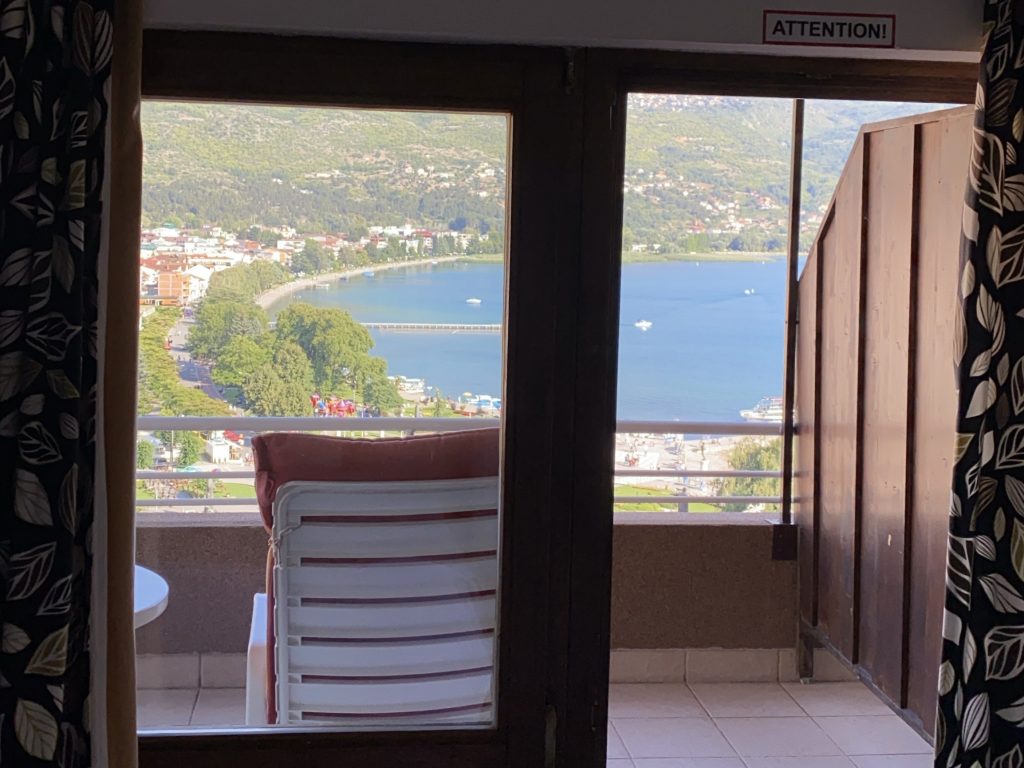 Dining experiences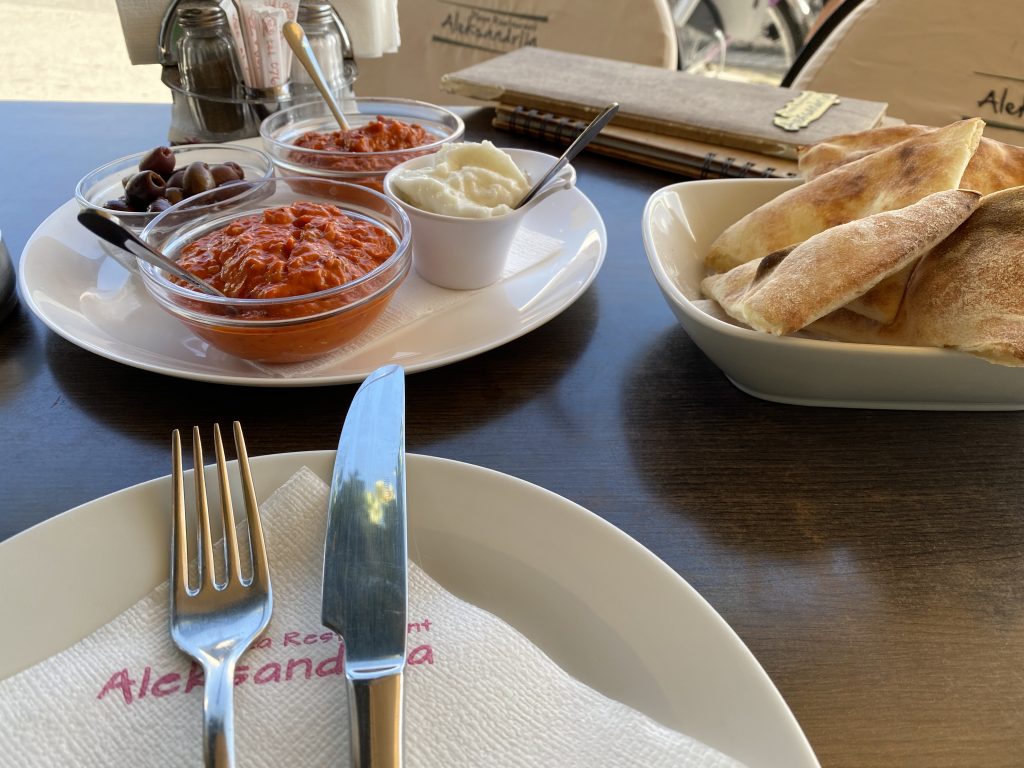 Lunched at a lakeside restaurant. Appetizer of a tray of olives and three macedonian sauces (red bell pepper, eggplant, garlic) accompanied with pita bread. Main course of mussels, clams, shrimp, and calamari which would have been delicious if sauteed, but was somehow broiled or something to the point where it was tough and dry almost like jerky. I sampled two of the national lagers, which were nice in the heat.
I honestly could have skipped dinner, and nearly did. Around 8 I wandered down to the main drag and eventually happened on an irish bar. So I grabbed an outdoor table to have a draft beer. Finally looked at the food menu and decided to have their piroshka. It was deep fried, with melted cheese and ham inside – quite good with the beer.
Takeaways
I think a large part of what I like about travel is the break in routine. With that comes more uncertainty about whether my plans will actually work out. So I expect the unexpected, and I get to try out different problem solving techniques.